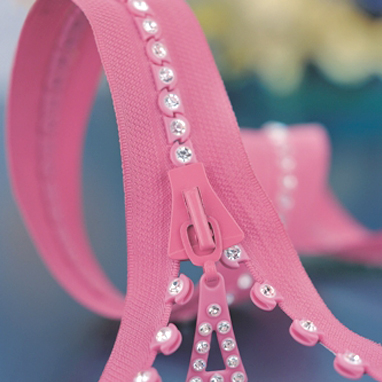 Rhinestone refers to the lead crystal stones imbedded in the molded plastic teeth. Teeth start as a liquid and are molded onto the zipper tape's corded edge. The slider is specially engineered to work with the corresponding teeth. Rhinestone pulls are the finishing touch.
"A" Clarity Lead Crystal Stones are popular for formal to casual elegant garments and accessories. Sizing include:
#3 - Small Teeth – (3.5 mm across)

#5 - Medium Teeth – (4.5 mm across)

#8 - Large Teeth – (7 mm across)

#10 – Dual Row Teeth – (2 rows of 5 mm = 10.5 mm across)
RHINESTONE..."the word originally had European associations. The Rhine in rhinestone is the Rhine River, and rhinestone is a translation into English of the French phrase caillou du Rhin. Originally a rhinestone was a kind of rock crystal that was found in or near the Rhine. Other types of rock crystal, such as Cornish diamond, were given similar fancy names. Because rhinestones could be made to imitate diamonds, the name rhinestone was applied to artificial gems made from paste, glass or gem quartz." Read more at: Answers.com/topic/rhinestone
Diamond-like...the "A" clarity lead crystal stones are imbedded into the plastic teeth – not just glued in. Always pre-test for launderability.
For a quote on large quantities or custom orders, please contact us.